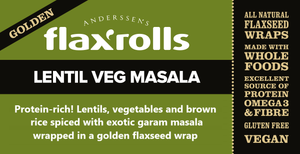 Lentil Masala Golden FlaxRoll, Gluten-free, VEGAN. A very popular variety!
Regular price
$28.00
$0.00
A delicious filling of lentils, vegetables and brown rice spiced with exotic garam masala. Tasty!
 INGREDIENTS: Ground Golden Flaxseed, Carrots, Cabbage, Onions, Chickpea Flour, Whole Brown Rice, Lentils, Bell Peppers, Sorghum flour, Millet flour, Olive Oil, Cilantro, Xanthan Gum Gluten Replacement, Tapioca flour, Sugars (agave syrup), Fresh Garlic, Potato flakes, Organic Quinoa flakes, Chia seeds, Garam masala Spices, Seasoning Salt (no MSG), Baking soda, Organic Coconut Oil, Natural Vanilla Extract, Sea salt, Spices, White Rice flour (trace). 
---
More from this collection