FlaxRolls® are gluten-free ground flaxseed wraps baked with a variety of delicious ingredients bringing you all the health benefits of fabulous flaxseed.         9 VEGAN OPTIONS to choose from!
BULK ORDERS DIRECT TO YOU!**
Note: Flaxrolls are shipped frozen.
FlaxRolls® are fast, convenient and an excellent source of FIBRE, OMEGA 3 and PROTEIN:
♦ Up to 10g of Fibre (34% RDA) ♦ 4g of Omega 3 ♦ Up to 11g of Protein
FlaxRoll® wraps are all natural. NO preservatives, NO artificial additives, NO refined sugars.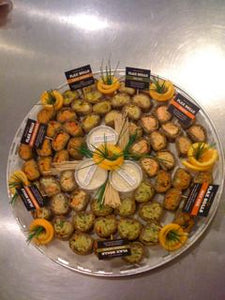 Cut up for hors d'oeuvres. Add a dip, salsa or sauce. Pair with a smoothie, fresh juice, salad or soup. Enjoy hot or cold, anytime, anywhere.